The best way to rein in the corrupt banking power of the Big Four is to re-establish a public alternative. Australia has not such a public bank since Paul Keating and John Howard privatised the Commonwealth Bank in 1996.
Skip to What you Can Do
Recruit your community—
pass the Commonwealth Postal Savings Bank!
Resolution campaign
To promote and build support for the Commonwealth Postal Savings Bank (CPSB), we have drafted a resolution which can be adopted by local councils, chambers of commerce, union branches, political party branches, and indeed any community organisation.
Success
On 27 July, councillors at the Narrabri Shire Council in NSW unanimously passed a resolution supporting the CPSB, calling on the Parliament to pass the legislation and on 28 July, the Banana Shire Council in QLD carried a similar resolution with no opposition. We have also been informed that on 3 August, the Licensed Post Office Group has endorsed the Commonwealth Postal Savings Bank Bill. As seen from these early results, activists are taking this resolution and motivating its adoption.
The Citizens Party urges all Australians who support a post office people's bank to take to their local council, chamber of commerce, union branches, political party branches, indeed any community organisation, and ask them to endorse the Commonwealth Postal Savings Bank Bill:
Draft Resolution—Post Office People's Bank
NAME OF ORGANISATION [council, union branch, political party branch, church, other body]
notes that:

Bank branch and ATM closures are leaving many communities without access to financial services, especially in regional Australia;

Since 1975 the number of bank branches in regional Australia has fallen by more than 60 per cent, and there are more than 1,500 communities across Australia with no bank branches at all;

A large proportion of the population, including the elderly, disabled, small businesses, and local schools and charities, will always have a need for face-to-face financial services, despite advances in technology;

For hundreds of communities, their only access to cash and financial services is through Bank@Post at their local post office;

Bank@Post is an essential service to all communities, but is vulnerable to commercial decision-making by the banks, which can choose to withdraw their participation, and charge excessive fees on transactions;

With four major banks controlling 80 per cent of the financial system, Australian consumers suffer from a lack of real banking competition;

calls on the Commonwealth Parliament to pass the Commonwealth Postal Savings Bank Bill to establish a post office people's bank, fully guaranteed by the Commonwealth, as a dedicated postal savings bank, operating exclusively through Australia Post's corporate and licensed post offices, which will ensure basic banking services—including deposit-taking, business and personal lending, and access to cash—are available to all Australians, and will contribute to Australia's national economic development.
write to the Local State and Federal Members of Parliament, to inform them of our desire to support the passage of the Commonwealth Postal Savings Bank Bill through Parliament.
Narrabri Shire Council Motion and Rationale
In moving the motion endorsing the Commonwealth Postal Savings Bank (CPSB), Councillor Maxine Booby provided the following "rationale":
"As Councillors would be aware Wee Waa has recently lost both banks and their services.
This has disadvantaged many people and businesses and charity groups in town. Businesses have had to allow an employee to travel to Narrabri to do business banking. This involves 1-2 hours of lost time.
Businesses need to bank daily takings and or access cash to service customers in their shopping. Not everyone uses EFTPOS cards.
Charities do not have local access for cash for functions and these functions run on cash, ie: raffles, street stalls, Christmas carnival etc. A Commonwealth Postal Savings Bank would ensure these services that are so important to the smooth functioning of a community.
The present arrangement between the National Australia Bank and Commonwealth Banks can change at the banks' whim. Already charges for transactions have increased to $4.50.
The situation in Wee Waa is exacerbated by the removal of the town's ATM. EFTPOS is available for limited cash at IGA and the Bowling Club if you are a member. When the internet went down last week for 3 days people could not access their money and businesses could not service cards or cash outs.
A Commonwealth Postal Savings Bank (CPSB) would permanently secure the financial viability of Australia Post and the LPOs, based on a legislated agreement with Australia Post that guarantees the LPOs share the revenue—their income will not be at the mercy of the private banks deciding whether or not to renew their Bank@Post deals.
It would guarantee financial services for all Australians. The private banks have abandoned small towns in regional Australia and low-income suburbs, but they all have post offices, through which they will be able to bank with CPSB.
It would guarantee bank deposits. The CPSB will be a public bank, owned by the government, which will guarantee all deposits, so Australians who bank at the postal bank will know they won't lose their savings in a financial crisis or deposit "bail in".
There would be no "de-banking". As a public bank the CPSB will not be allowed to discriminate by de-banking lawful businesses.
It would support cash payments. The private banks are trying to do away with cash, which would be a disaster. The CPSB would allow people to always access cash."
The Executive Management of Narrabri Council added the comment: "It should be noted that the above motion is a template motion drafted by the Australian Citizens Party."
Banana Shire Council Motion
In a 29 July letter to the local MP, Cr Neville Ferrier, Mayor of Banana Shire Council advised that Council passed a resolution (right) in support of the Commonwealth Postal Savings Bank proposal at its general meeting on 28 July 2021.
In that letter he makes the point, "Council acknowledges that the National Australia Bank and the Commonwealth Bank have agency arrangements with Australia Post through to 2030 and that Westpac are currently negotiating longer term arrangements with Australia Post as well."
"Notwithstanding the above arrangements the reality for small and medium sized rural communities is that the above arrangements are commercial in nature and subject to change at short notice. Council's view is that the above arrangements do not offer long-term security of access to banking services for rural communities. Council has supported the establishment of a Commonwealth Postal Savings Bank to offer long term security of access to banking services to rural communities as well as ensuring the ongoing sustainability of post offices in rural communities."
Council's actions got some local media attention in the Rockhampton, The Morning Bulletin with an article, CQ Council endorses idea for national bank, by Lachlan Berlin on 5 August 2021.
---
The Senate's Australia Post inquiry report, tabled in Parliament on 15 June, was the culmination of the amazing campaign to support Christine Holgate and the thousands of Licensed Post Offices (LPOs) she saved with her 2018 banking deal. That campaign brought home the need for a permanent solution to secure the long-term viability of LPOs and guarantee banking services for all Australians, which is a post office "people's bank". It's time to expand the campaign to unite Australian communities in support of the Commonwealth Postal Savings Bank Bill 2021, which the Citizens Party has drafted in cooperation with other parties to be introduced into Parliament in the near future.
A public postal bank would have many benefits, including breaking the monopoly of the Big Four banks over Australia's financial system. For that reason, expect the major banks to try very hard to stop it. The banks' opposition can be overcome, however, by building a groundswell of grassroots support to force Parliament to pass the bill. The good news is that there is already broad support across all parties for a postal bank, which a grassroots campaign can unite and turn into action!
Postal banks are very common—and popular!—around the world, and there is currently a parallel campaign for a postal bank in the United States, which is being supported by a grassroots movement called A Grand Alliance to Save Our Public Postal Service (watch this short explanatory video by actor Danny Glover) involving more than 90 national organisations and a myriad of local community organisations. We have the same potential in Australia to unite all communities and organisations that use and value local post offices, and the licensees who run them, to support the postal bank solution.
Other reasons for an postal savings bank:
the aggressive rate at which the private banks are closing their branches and ripping out ATMs because they just don't care about the marginal profits they make from retail banking; and
the need for a no-frills public retail bank that can guarantee banking services for all Australians, which would not be allowed to discriminate against lawful businesses through "de-banking", and which would support the cash payments system that the private banks are trying to scrap so they can turn Australia into a cashless economy (Christine Holgate ensured the expanded Bank@Post service included a commitment to supporting cash, which is available at every post office).
A postal people's bank is clearly both in Australia's national interest, and is the long-term solution for Australia Post. For that reason, the Citizens Party has drafted legislation, called the Commonwealth Postal Savings Bank Bill, for introduction into Parliament in the near future, as part of a national banking system that includes a national infrastructure bank. But for this solution to work, the corruption exposed by the appalling treatment of Christine Holgate and the Senate inquiry must be cleaned out. The government and the Opposition won't do it—it's up to the citizens of Australia.
What YOU can do to make a difference in this campaign
1. PASS motions/resolutions in support of the Commonwealth Postal Savings Bank Bill!
Ask local representatives and organisations to endorse the Commonwealth Postal Savings Bank Bill by passing a motion/resolution similar to the one above. Examples of organisations:
Local Council
Chamber of Commerce
Union branches
Political party branches
Any community clubs and organisations
 DOWNLOAD this flyer for print or email: Unite Australia in support of the Commonwealth Postal Savings Bank
2. Get these flyers out into your community. Click on the image to Download PDF for printing or attaching to email.
Some places you can take one or all of them or email them to:
Local post offices
Local Federal and State Members of Parliament
Local Councils and Chambers of Commerce
Union representatives
Community leaders, clubs and organisations
Local businesses, especially those operating in shopping strips or immediate proximity to their local post office or in areas that have lost their local bank/s
Anyone who values and relies on their local post office, including banking services
Campaign Update
As a result of the pressure brought to bear on Australia's elected officials by concerned and active citizens, much of which has been generated by the Citizens Party's campaign, we have a fantastic breakthrough: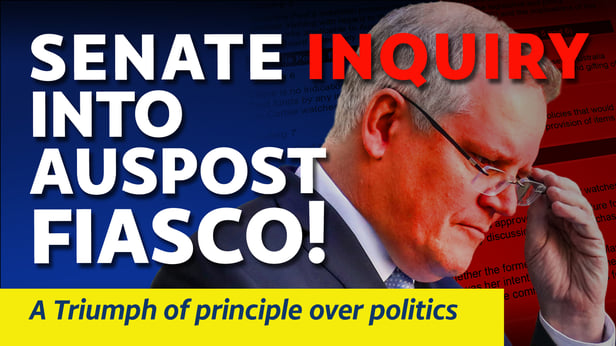 the Senate has conducted an inquiry into Australia Post and the circumstances surrounding the ouster of Christine Holgate!
You can watch a video that covers the events that led to this Inquiry. Senate inquiry into Australia Post fiasco! A triumph of principle over politics
If you prefer a written summary, you can also read our 26 February media release: Massive breakthrough! Pauline Hanson forces Christine Holgate removal scandal to a Senate inquiry
The real agenda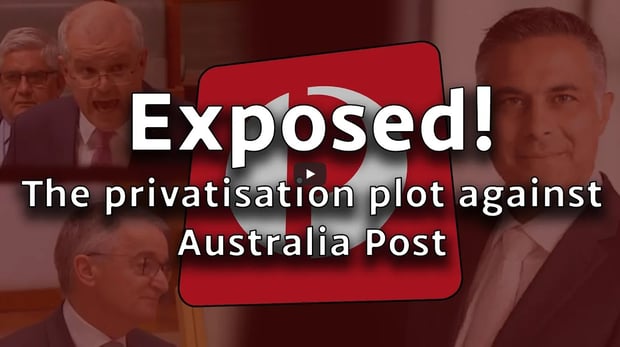 On the eve of the Senate Inquiry, the Citizens Party uncovered new evidence showing the real agenda behind the ouster of Christine Holgate: the government has been preparing Australia Post for privatisation. Read our in-depth special report: Getting in the way—how Christine Holgate upset a $75 trillion privatisation agenda targeting Australia Post
We have created a 7-minute video that covers the key details of the privatisation plot. Exposed! The privatisation plot against Australia Post
The Senate Inquiry
The Senate Inquiry has definitely opened a can of worms for the government with Christine Holgate's explosive submission and testimony to the Senate's Australia Post inquiry confirming the Citizens Party's original suspicion—the attack that drove her out of Australia Post saved the Big Four banks from her plans to establish a public postal bank. The submission confirms that the government commissioned the secret Boston Consulting Group report it has been hiding from Parliament not just to prepare Australia Post for full or partial privatisation, but to block any moves to turn Australia Post into its own bank.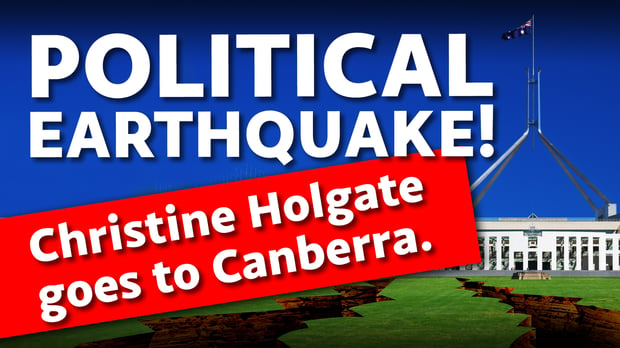 You may have seen some of the coverage in the mainstream media with some coverage making the realisation that this has nothing to do with "bloody watches" and a lot more to do with Ms Holgate's steadfast opposition to any agenda to privatise Australia Post. 16 April 2021 - Citizens Report - Political earthquake! Christine Holgate goes to Canberra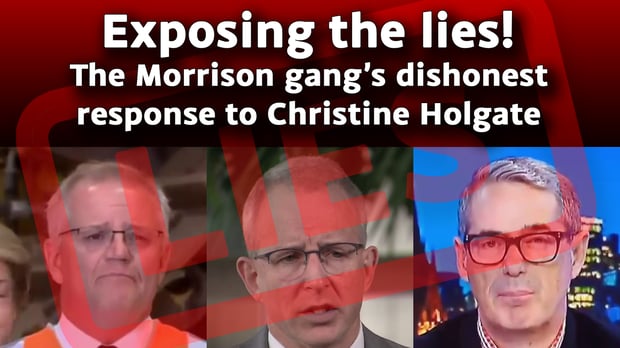 As the political fallout continues it is clear that Scott Morrison doesn't want to talk about the big issues Christine Holgate exposed in her powerful Senate testimony about his privatisation agenda for Australia Post, so he and his gang are trying to revive the original outrage over spending "taxpayers' money" on Cartier watches.
However, they can't stick to their story without lying, as we show in this short video Exposing the lies! The Morrison gang's dishonest response to Christine Holgate
As a testament to the success of our campaign to save Australia Post from privatisation and to establish a postal savings bank, during the course of the public hearings, the Citizens Party has been mentioned twice by the two most disingenuous senators on the committee, committed to protecting their political party's positions over investigating the truth.
The Citizens Party is deeply offended by the smear of racism and anti-Semitism that two Senators hiding behind parliamentary privilege used to attack the Licensed Post Office Group through guilt by association in the 27 April 2021 Australia Post Senate hearing.
This was a vain, disgusting attempt to undermine the evidence given by both the Licensed Post Office Group and Christine Holgate, to shift the focus onto the Citizens Party. You can read our response to the Senators in our 28 April 2021 Media Release - Hypocritical Senators use privilege to smear courageous Australians.
See Below for the latest Media Releases and other content updates for this campaign.
Page last updated on 01 August 2022